Další skvělý autor z těch nejskvělejších...
Philipa Pullaman jistě znáte, protože první díl této trilogie by nedávno zfilmován. Tato trilogie má dva názvy, takže vždycky uvedu i oba názvy knih (v pořadí JTE-JŠH)- jená se ale o tu samou knihu....
---
Philip Pullman
Philip Pullman se narodil v britském Norwichi v roce 1946. Dětství strávil v Británii, Zimbabwe a Austrálii, než se rodina usadila v severním Walesu. Vystudoval Exeter College v Oxfordu. Víc než dvacet let působil jako učitel na různých středních školách, z toho osm let na Westminster College.
Napsal téměř dvacet knih, z nichž většina je určena dětským čtenářům, ale s oblibou je čtou i dospělí. Známým se stal už svou tetralogií o Sally Lockhartové, ale světový věhlas mu přinesla až trilogie Jeho temné esence. První díl Světla Severu (Northern Lights (v USA pod názvem Zlatý kompas, The Golden Compass) vyšel roku 1995. Pullman za něj dostal význačné literární ceny Carnegie Medal a Guardian Children´s Fiction Award. V roce 1997 následoval druhý díl Jedinečný nůž (The Subtle Knife) a roku 2000 trilogii uzavřelo Jantarové kukátko (The Amber Spyglass).
První kniha z trilogie Jeho temné esence se okamžitě po vydání stala mezinárodním bestsellerem a celá trilogie pak nejoceňovanějším přírůstkem v žánru fantasy za posledních patnáct let, který autora rázem katapultoval mezi přední světové autory fantasy literatury. Rovněž mu vynesl srovnání s nestorem žánru J. R. R. Tolkienem.
První kniha se jmenuje Zlatý kompas (- Světla Severu).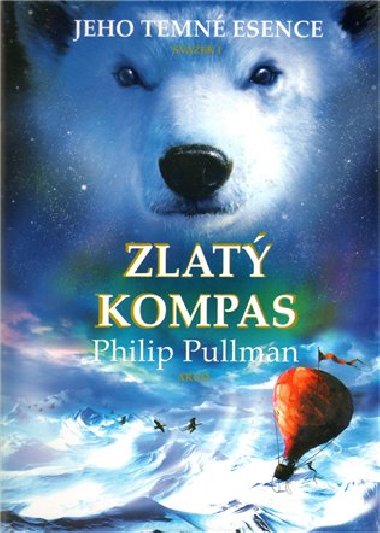 Příběh dívky Lyry se odehrává v nám podobném světě, ale přitom tak odlišném. Je to svět, který Vám bude z počátku připomínat Anglii 19. století, ale pak se tam objeví takové termíny jako benzinový motor a dokonce narazíte i na pojem atomová energie. Je to svět, kde má největší moc církev, ale přitom v příběhu nenarazíte na žádné pámbíčkáře ani náboženské rituály. Tomu našemu geograficky podobný svět má ovšem kromě nám známých bytostí i své vlastní: mluvící inteligentní lední medvědy (panserbjoerne), víly, útesové příšery a DAEMONY. Přesně podle věty na obálce ...každý má svého daemona... -zde každá lidská bytost má od narození svého vlastního "démona", který je s člověkem spojen metafyzickým provazem. Jejich životy jsou navěky svázané a smrt jednoho znamená konec i pro druhého. Jsou to hmotné bytosti, které po určitou dobu vývoje mohou měnit svoji podobu na kterékoliv zvíře. Až člověk dospěje, jeho daemon na sebe vezme trvale podobu zvířete, které nejvíce připomíná charakter člověka. Slabí mají pokojové psíky, silné charaktery leopardy, brutální Tataři např. vlky. Jejich funkce není přesně jasná; mohou se svým člověk komunikovat, pomáhat mu v různých zvířecích podobách, radit mu atd. Jsou to takoví soukromí bůžci. Možná proto je jejich lidští nositelé titulují Pane.

V tomto světě žije v Oxfordu dívka Lyra, sirotek vychovávaný na prestižní universitě Jordan College. Je to mazlíček zdejších lidí, který toho ale často zneužívá. Není to žádný andílek v růžové sukénce. Vše tajemné a zakázané je pro Lyru velmi lákavé, přímo neodolatelné. Tajně schovaná v šatní skříni se tak dozví o záhadných věcech na Severu - Prachu, který je možná částicí zla nebo i dobra, Světlech Severu, polární záři, ve které se objevují jiné světy. Ničemu z toho Lyra nerozumí, ale musí to být dost závažné, protože to přivezl její oblíbený lord Asriel. V téže době se začnou po celé Anglii ztrácet děti, potichu, ale beze stopy. Zmizí i Lyřin přítel Roger, což dost těžce nese. Ale v jejím životě se objeví tajemná paní lady Coulterová, která ji bere pod svoje křídla a odváží ji do Londýna vychovat za lady. Tato pohádka končí zjištěním, že lady Coulterová je vlastně hlavní organizátorka Hltounů, lidí unášejících děti. A okouzlující Lyru chce k tomu zneužít. Dívka utíká k Plavcům -lidem žijícím na řekách a kanálech po celé Anglii. Tento nárůdek se nezdá tím, čím je. Mají velmi dobré informační zdroje a i oni chtějí najít své ztracené děti.Tak začíná Lyřino strastiplné dobrodružství na Severu za osvobození dětí. Je to cesta plná násilí a krve, kde mnoho lidí a tvorů není tím, zač se vydává, kde mnoho lidí a tvorů se nechová tak, jak by se očekávalo.
Druhý díl se jmenuje Jedinečný nůž (- Dokonalý nůž).
Příběh se odehrává ve třech vesmírech: vesmíru Světel Severu, který je jako náš, ale v mnoha směrech odlišný, vesmíru, který známe, a třetím vesmíru, který se od našeho liší zase v jiných oblastech. Hlavní hrdinkou je opět dvanáctiletá Lyra, která nese obrovskou zodpovědnost, je totiž důležitá pro záchranu těchto i dalších milionů světů.
Kniha se skládá ze tří příběhů, každý se odehrává v jiném světě, ale postupně se různě proplétají a pojí.
Willovi je dvanáct let, žije se svou matkou, ale ta na tom není moc psychicky dobře, musí se starat o ni, a ještě dávat pozor na neznámé muže, kteří k nim opakovaně přicházejí a snaží se získat informace o jeho otci, významném cestovateli, který záhadně zmizel při své výpravě na Sever. Odvede svou matku do bezpečí a vrátí se do domu, kde se mu shodou okolností podaří zabít jednoho z mužů. Musí se postarat teď hlavně sám o sebe. Rozhodne se pro útěk, při kterém se chce pokusit odhalit pravdu o zmizení svého otce.
Na své cestě objeví prostorové okno, díky němuž se dostane do zcela jiného světa. Nachází zde společnost- podivnou, divokou malou dívku, jménem Lyra. Stejně jako Will, má Lyra poslání, které chce uskutečnit za každou cenu. Ale svět Cittagazze je podivné a znepokojivé místo. Ulicemi se plíží smrtící, duši pohlcující Přízraky, zatímco vysoko nad zemí zní mávání křídel vzdálených andělů. A v záhadné Torre degli Angeli se skrývá nejdůležitější tajemství Cittagazze. Novým majitelem mocného předmětu, který si sám vybírá majitele tím, že mu usekne dva prsty, se stane Will. Záhadný nůž, jenž má dvě strany, jedna přeřízne y ten nejtvrdší kov a ta druhá vytváří okna do nových světů. Dokonalý nůž… záhadný předmět, pro který by zabíjeli lidé z mnoha světů.
Mezitím, co Lyra s Willem se snaží uskutečnit své plány, a cestují z Willova světa do světa Cittagazze, v Lyřině světě se chystá největší válka za celou historii lidstva. Lyra se musí ukrýt před dvěmi mocnými silami, před magisteriem, církví, v jejímž čele stojí její matka. A proti jejím odpůrcům, v jejichž čele stojí její otec a oba se ji snaží získat na svou stranu. Oba dva totiž vědí, jak je pro vývoj lidstva důležitá.
Na pomoc jí přijdou víly z jejího světa a společně se snaží docílit všech jejich tužeb. Odhalí pravdu o Willově otci, jenž se také pomocí okna dostal do jiného světa a žil tam druhý život. Po celou dobu musí být neustále ve střehu, bojovat proti různým nepřátelům a hlavně se neprozradit…
Kniha končí unesením Lyry.
A třetí závěrečná kniha trilogie se jmenuje Jantarové kukátko (- Jantarový dalekohled).
Lyra je v jeskyni v Himalájích, kde ji její matka Marisa Coulter udržuje zdrogovanou ve spánku.
Will s dvěmi anděli Balthamosem a Baruchem, kteří ho mají dovést k Asrielovi, jsou napadeni Metatronovými vojáky - utíkají oknem do jiného světa.
Lord Asriel vysílá malou armádu, aby zachránili Lyru. Stejně tak jsou vyslány zepeliny království. Asriel také Lyře pošle dva Gallivespiany (něco jako trpaslíčci) Lady Samalkiu a Chevaliera Tialyse.
Mary Malone najde kmen tvorů vypadajících jako sloni - mulefy. Zůstane s nimi, naučí se jejich jazyk a bude pozorovat jejich styl života a zkoumat jejich kulturu. (Mary Malonovou jsme nikdy neměla ráda. A mulefy taky ne. Připadají mi odporní i když o nich píšu sem. Kdo ví proč...Mimochodem, to ona si vyrobí Jantarový dalekohled, kterým může sledovat prach nebo co.)
Will se setká s Iorkem Byrnisonem, králem Panserbjorne - tady je most skrz světy, který stvořil Asriel a skrz něj migrují lidé. Iorek souhlasí, že půjde s Willem Lyru zachránit - navíc chce odejít ze severu, kde taje sníh kvůli globálnímu oteplování.
Will, Iorek a Balthamos dorazí k jeskyni, kde je i armáda Lorda Asriela a armáda církve. Zatímco spolu bojují dvě armády, Will jde k Lyře a vyrábí okno, aby prošli do jiného světa - v tom se na něj podívá Marisa Coulterová, která byla předtím zaujata bojem a Willovi na chvíli připomene jeho vlastní matku - díky této chvilce nepozornosti udělá chybu a nůž se mu rozbije. Lyra, Will a Gallivespiani projdou do jiného světa.
Armáda Lorda Asriela chytí Marisu Coulterovou, ale té se podaří utéct a říct svým nadřízeným vše, co ví. Ti ji ale uvězní a ona se proto stane spojenkyní Asriela.
Iorek Byrnison spraví dokonalý nůž a Lyra, Will a Gallivespiani se vydají do světa mrtvých. Tady jsou vystaveni velké zkoušce - aby mohli pokračovat, musí opustit své daemony, svou duši (i když Will nemá viditelného daemona jako Lyra, také má duši, kterou mu cesta vyrve z těla a která se až později zhmotní do zvířecí podoby), což je velice bolestivé a strašné. Ve světě mrtvých Lyra najde svého zavražděného kamaráda Rogera. Will s Lyrou se rozhodnou, že by duchové měli být volní - proto udělají okno ve světě mrtvých, kterým můžou vycházet a rozplynout se v přírodě. John Parry a Lee Scoresby jako duchové se rozhodnou pomoci Lordu Asrielovi v závěrečné bitvě.
Marisa se vydá do hor, kde se sejde s Metatronem ukecá ho - doslova. Využije jeho touhy zabít Asriela a zradí ho. Ukazuje se, že Lyra je drahá jak Asrielovi tak Marise. Z lásky se dokonce Marisa vrhne do propasti za Asrielem, který tam skončí v souboji s Metatronem. Jejich duchové jsou tedy odsouzeni bloudit tu navždy.
Lyra a Wil přijdou do světa k mulefům a chtějí se vrátit ke svým daemonům - jenže ti jsou naštvaní, že od nich prve odešli a utečou jim. Lyra a Will se do sebe bláznivě zamilují stejně jako jejich daemoni. Bohužel pro ně andělé zjistí, že se musí zavřít všechna okna mezi světy, aby se vyhubili přízraky, kteří zabíjejí dospělé. Lidé nemůžou žít v jiném než svém světě - to je zabíjí. Jedno okno sice může zůstat otevřené, ale to musí být to ve světě mrtvých. Lyru i Willa to dost zraní - tolik, že se k nim jejich daemoni okamžitě vrátí. Ale nedá se nic dělat a oba se musí vrátit do svého světa. Oba si ale přísahají, že každý rok o letním slunovratu si sednou na totožnou lavičku ve svých světech - ocitnou se tedy oba na stejném místě - spolu.
Lyra se vrátí na Jordan college a jelikož ztratí svou schopnost číst alethiometr, rozhodne se jít na speciální školu a studovat alethiometrii a znovu se to pracně naučit. Ona a Pantalaimon později uskuteční myšlenku Johna Parryho a vybudují Nebeskou republiku. I Will a Mary Malonová se musí vrátit do svého světa.